InstaForex Review and Tutorial 2020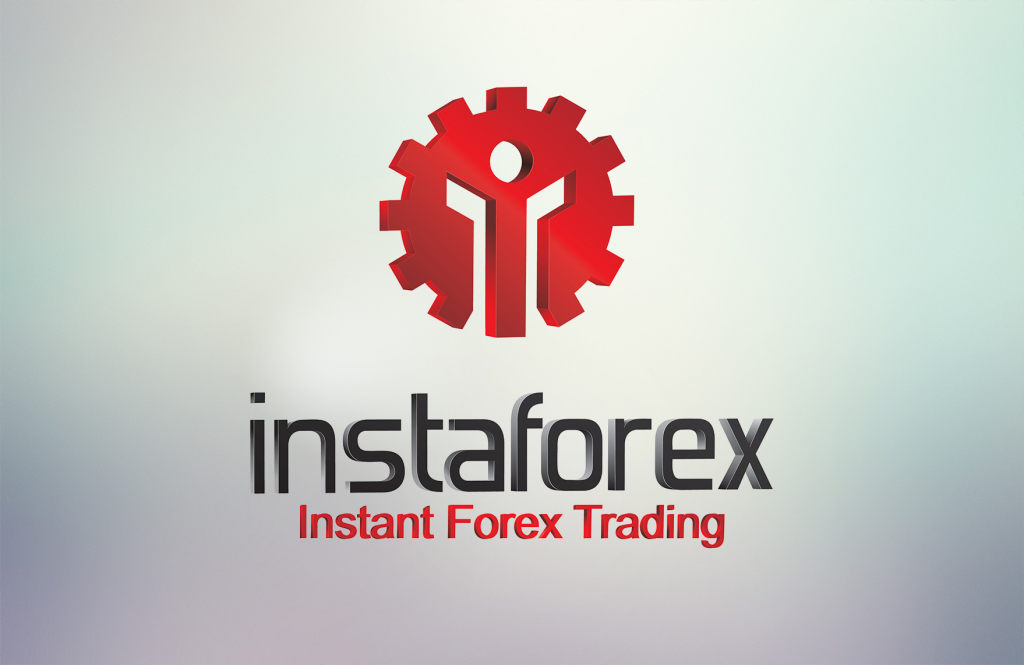 InstaForex is a broker platform that offers forex trading in addition to CFDs and binary options trading. As a MetaTrader 4 broker, InstaForex offers great all-round service to its customers, with a self-reported seven million users making use of what the company and webtrader platform provide. One of the best-known international forex brokers on the market, this broker has built up a reputation as a fast-growing brand with several high-profile sponsorships.
As a fully regulated brand for international and European use, there's plenty that suggests that InstaForex would be an excellent fit for traders of all shapes and sizes.
Read our expert review to find out more about this international trading platform – and discover whether InstaForex would be the right fit for you when it comes to future trading activities, as well as trading in CFDs and trading binary options.
Company Details
As mentioned above, InstaForex is a company that first appeared on the broker platform scene in 2007.
Created in Russia by brand InstaTrade Corporation, as part of InstaVector Ltd, the company has only grown and expanded over the years to have over 260 different representative offices and locations worldwide.
While InstaForex first dipped its toes into the waters of online trading in 2001, the company wasn't firmly established as part of the scene in 2007.
Where the brand made a real push to get their name out there with high-profile sponsorships through a range of different sports teams and athletic personalities.
InstaForex has specific international offices in both Cyprus and the UK, to meet regulatory standards for these regions as well as expanding the reach of their online broker platform service even further.
The company as a whole offers high-end services to their customers worldwide, while divisions such as InstaForex EU caters individually for the EU market to diversify further and enhance the product they offer.
For traders looking for a tailor-made international service, InstaForex delivers.
Over 30 industry awards, plus the use of multiple data centres, prove that InstaForex is a serious contender for the trading industry, with no plans of loosening their grip anytime soon.
Trading Platform
While many online brokers and services offer their own proprietary version of trading platform, InstaForex has gone the old school route by only offering MetaTrader 4 as their platform of choice.
As the only option available to traders, InstaForex doesn't support third-party add-ons or plugins that other brands often use to enhance their product.
The metatrader 4 download is quick and simple however.
Instead, only a Superior Forex Desk plugin is offered to alter the base platform into anything custom or tailored. For many traders, this lack of polish – and use of a generic system – may be a turnoff for giving InstaForex a go.
For traders that enjoy the style, infrastructure and familiarity of MT4, the fact that InstaForex uses this platform could be a significant bonus, there is also the client cabinet that adds some flexibility.
As a well-invested, carefully designed and robust trading system, MT4 does practically everything a trader could want. However, additional fees may apply to get the most use out of this system.
While, for some, it may be a disappointment that InstaForex doesn't diversify with its own product, for others, a simple system like MT4 is only a positive when it comes to their trading experience.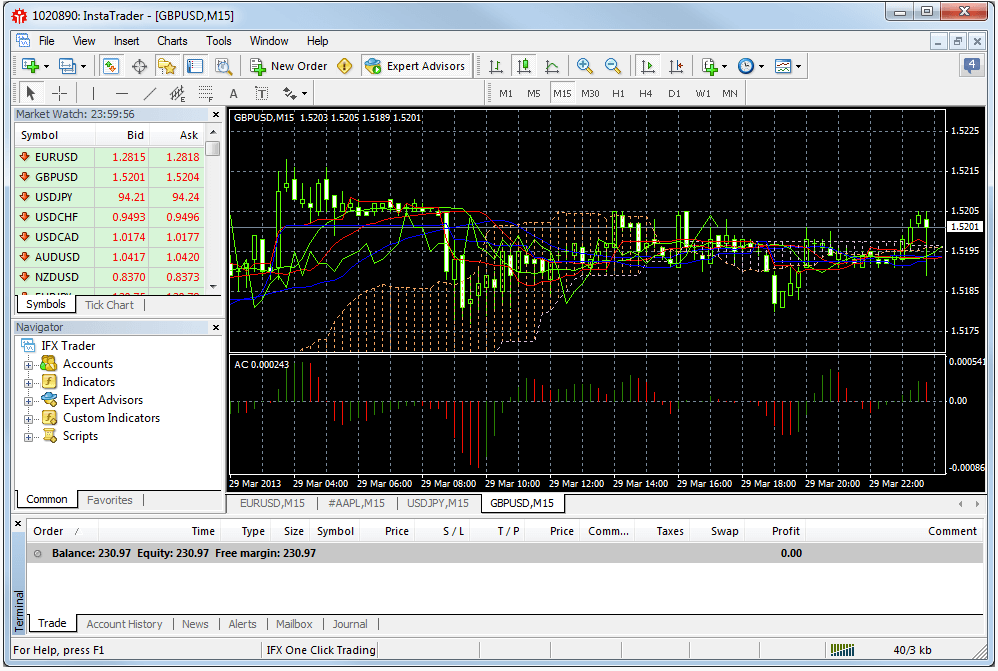 Assets/Markets
As the name of the brand suggests, InstaForex primarily acts as a forex broker, with a wide selection of different assets on offer to compliment the forex products.
Currently, the platform has over 100 different currency pairs available to traders, allowing for full and comprehensive diversion of portfolios for traders.
For those that prefer forex, InstaForex has plenty of appeal. Outside of their specialisation, the brand also dabbles in other types of markets and assets, including commodities – though these are limited to the standard natural gas, crude oil, silver and gold.
Alongside this, this platform also offers 88 different CFDs for US stocks, for those that like to mix up their trades now and then.
While the lack of additional commodities could be considered a downside to InstaForex, it's clear from the positioning and goals of the brand that they expect the vast majority of their traders to focus on forex.
That's precisely what they've targeted when it comes to the selection of different currency pairs on offer.
Spreads & Commission
As with the vast majority of online broker services, InstaForex utilises spreads and commissions for their platform, which vary according to the specific account you hold.
To find out more about the account structure of InstaForex in detail, read the Account Types section below for a full overview.
In basic terms, the platform offers two distinct account types: Standard and Eurica. The main difference between these accounts is the method: Standard accounts use spread, while Eurica accounts use commission.
For a Standard account, spreads can be anywhere for 2-7 pips, both for American and European traders.
By contrast, Eurica accounts hold a commission rate of between 0.02-0.07% for both European and American services. Other options like ECN and Scalping accounts are offered to EU customers, which keep a floating spread of 1.2 pip or 0.8 pips depending on whether your account is Standard or Pro.
Realistically, for the majority of traders starting out it makes more sense to go on commission as opposed to spread, to ensure the best possible outcome and fewer fees. But with so much choice and so many options, it's easy to find a solution that works for you.
Leverage
One of the benefits of choosing InstaForex for online trading is the option to choose a leverage that suits you.
With the Eurica trading account, traders can select leverage that suits them from 1:1 through to 1:1000. On the ECN Pro Account has a maximum leverage of 1:30 which reflects EU regulation on forex trading for retail clients.
Mobile Apps
As InstaForex only supports trading through the well-established MT4 system, traders gain all the benefits of such a mature and well-developed platform – including the ability to access their trades from a mobile device.
The InstaForex company provides a range of different mobile applications and services as part of its wider offering, which includes The MobileTrader app, available on Google Play and the iOS App Store.
Other apps the brand provides include Forex Quotes and Analysis, Forex Courses and Forex Signals.
Compared to some desktop-only platforms, InstaForex is relatively well established with the list of different tools and functionalities it offers to mobile users.
However, the division of all these options into numerous different apps – where one more comprehensive app could suffice – may lead to these additional features not being downloaded and implemented in practical ways.
The main trading app has been however, very well received by traders and is a highly rated trading app.
Payment Methods
InstaForex offers a host of different options and methods for payment deposits as well as withdrawals, designed to provide their traders with something that works for just about anyone, anywhere in the world.
The platform also claims no fees against deposits or withdrawals, though transfer, bank or system fees may apply depending on the method you use. Payment methods include:
Credit and Debit Cards with Skill or VISA – 24 hours processing
Bank Wires – 2-3 business days processing
PayCo – completed instantly
MoneyBookers/Skrill – 24 hours processing, USD only
Neteller – completed instantly
UnionPay – up to 7 hours processing, CNY only
Solidtrustpay – completed instantly, USD only
OnlineNaira – completed instantly, NGN only
Bitcoin – completed instantly, Bitcoin only
With such a wide selection of payment methods on offer, there's something to suit traders from all over the world – something InstaForex promotes as a mostly international brand.
Nigeria, Malaysia and Singapore are three growth markets for the brand and Instaforex have tried to offer a range of payment methods popular in those regions.
Demo Account
In addition to the full range of different accounts InstaForex offers for live traders, the platform also offers a comprehensive demo platform to allows new or rusty traders to hone their skills and get to grips with the MT4 system in general.
The demo account login provided comes stocked with virtual money, allowing you to get a good idea of what real-life trading through this system might look and feel like.
For newcomers to trading, or those that have been out the game for a while, giving the demo account a try is a great way to get back into the groove of things and understand the different functionalities of InstaForex's system.
Deals and Promotions
Because of the regulatory requirements for brokers operating in the EU, there are no deals and promotions readily available for European-based traders. Welcome bonuses are no longer permitted by ESMA.
However, international traders can access a range of different monthly promotions as well as club and deposit bonuses upon signing up. Terms and conditions will apply, and should be read thoroughly to ensure they do not impact your trading style or choices.
Regulation and Licensing
As a platform that is used internationally for trading, InstaForex is required to meet a range of different licensing and regulatory requirements.
The company that the brand is owned by, InstaVector Ltd, is fully licensed by the Russian Central Bank.
At the same time, the platform itself is also regulated in Europe by CySEC as well as in the British Virgin Islands by BVI FSC.
InstaForex also utilises standardised payment methods, and for international traders has specific accounts for large deposits, which meet the global regulatory requirements for trading.
CySec and the AMF in France, have both raised issues with the brand, and the more rigorous EU regulation since 2017 has also mean that regulatory compliance has been a key issue for this broker for some time.
Additional Features
As a platform that utilises existing industry technology, named MT4, there aren't that many additional features to talk about for InstaForex.
Copy Trading
One feature that is becoming commonplace in the industry is the use of social trading.
This allows traders the chance to offer strategies, as well as allowing others to profit off commission within the platform.
For experts at trading, this is a big bonus to using the InstaForex platform, and one that shouldn't be understated when it comes to professionals looking to try out a different broker.
While InstaForex doesn't include many of the best MT4 plugins, one option the broker does support is eighteen different plugins related to candlestick pattern recognition – a little unnecessary where one option would have sufficed.
Still, it is something that sets the brand apart from their competition. Combined with the use of the handy InstaForex toolbar, this platform has several additional features that are well worth investigating.
Realistically, if you like MT4 and you don't want to make a significant change, InstaForex may be the right fit for you – any added features are just a bonus.
Account Types
Unlike many big-name brokers that stick to one or two distinct accounts, InstaForex has decided to go down the 'more is more' approach. With a total of five different accounts, some of which hold additional sub-accounts to promote diversity and offer a tailored experience to traders. These accounts are as follows:
Standard
The typical account for the vast majority of traders, Standard accounts provide all the base features the average user could want or need, with the added benefit of being able to change their leverage and deposit size.
For beginners to trading, there's even a maximum deposit limit to prevent newbies spending all their cash too quickly – a welcome feature for green traders.
Currencies for this account are in EUR, USD and GBP, and there are no limits attached to what you can deposit.
Eurica
With no spreads required, the Eurica account is also a good alternative for traders just starting out.
Traders can again choose their own leverage, though set fees will apply on all trades. Currency is again in EUR, USD and GBP, and there's no limit for deposit at all.
ECN
With access to all trading functionalities and no commission required, ECN accounts are designed for the next level of trader, with a higher degree of flexibility in market execution.
Currencies remain the same minus GBP, but the minimum deposit for this kind of account is 100 EUR.
ECN Pro
ECN Pro boasts all the same features as an ECN account, but traders using this option from InstaForex will have a minimum deposit of 1000 EUR – making this account type not for the fair-weather trader.
In terms of execution type, this account utilises market execution instead of instant performance, the same as the ECN account.
The difference here is a reduced floating spread, to encourage higher-investment traders to give the platform a go.
Scalping
Floating spreads, no commission trading and more makes the scalping account attractive to old-school traders that aren't so keen on the newer methods.
Utilising short-term deals and quick strategy, this account is one for a specific subset of traders – but it's valuable to have nonetheless.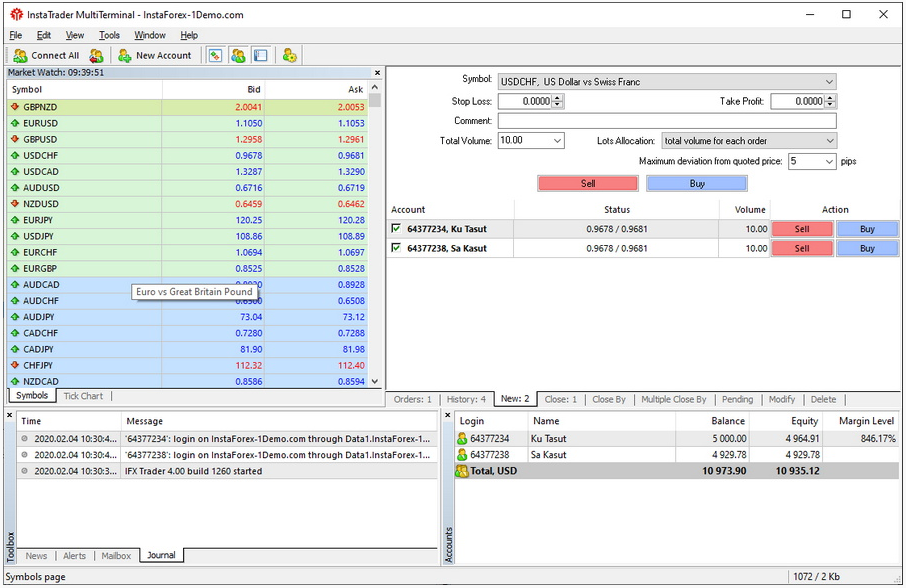 Benefits
As a well-established forex trading platform, the benefits of trying InstaForex are numerous.
Different account types are offered to suit all kinds of traders, and the platform also offers a free demo to ensure you can get to grips with the system and try before you buy.
As InstaForex utilises MT4, the transition into this brand will be smooth for many – it all works exactly the same, so there's no steep learning curve involved.
Not to mention that, for newbies, there's plenty of tutorials in this system available online.
The wide selection of trades on offer also adds to the appeal of this system, as well as the full regulation worldwide – providing a more versatile range of options for traders that aren't always in one place.
If you're looking for a well-built platform that has plenty of choice, then InstaForex might just be the ideal fit for you.
Drawbacks
While there are many good factors to consider for InstaForex, it's also worth noting the drawbacks that come with this platform.
Because InstaForex hasn't chosen to create their own proprietary system, the end result is less on-brand and polished – something many traders look for in platforms today.
Not to mention, the lack of adequate and powerful plugins for MT4 means you're getting the basic experience, with none of the exceptional functionality of more tooled-up models.
Finally, it's also worth considering the recent issues with InstaForex in regards to French and Brazilian authorities, as well as one of the related companies getting in hot water with CySEC.
Trading Hours
As an international platform, InstaForex offers trading practically around the clock. However, the brand has established that their options trading is available from 00:01 to 23:50 Monday to Friday, under GMT +2.
Contact Details / Customer Support
InstaForex offers an online form to get in contact with their team for support reasons.
In addition, details are provided for 24/7 technical support which can be selected on their website for anything from WhatsApp to Telegram, Viber to Skype.
In terms of general contact information, the contact us section on the InstaForex website covers it all, with comprehensive options for getting in touch with technical support, client relations, their finance department and partner relations.
For general support, the email and phone number provided are as follows:
Email: [email protected]
Phone: +443300109336
Safety and Security
InstaForex provides adequate financial and technical security for its customers, using a level of protection equivalent to banking processes.
This included the use of two-factor authentication, as well as anti-phishing technologies plus segregated accounts for high-value deposits.
Overall Verdict
As an online trading platform, InstaForex is a solid choice. It utilises well-known technology such as MT4 to provide an excellent experience to traders and ensures the safety of their customers through proper regulation and effective security solutions.
If you're looking for a trading platform that offers a comprehensive variety of different trading options, then InstaForex might be worth checking out.
While it certainly isn't an exceptional standout, it does have a good reputation and all the functionality in place to make it viable for many different types of traders – from old hands to beginners.
Accepted Countries
InstaForex accepts traders from Australia, Thailand, Canada, United Kingdom, South Africa, Singapore, Hong Kong, India, France, Germany, Norway, Sweden, Italy, Denmark, United Arab Emirates, Saudi Arabia, Kuwait, Luxembourg, Qatar and most other countries.
Traders can not use InstaForex from United States, Iran, Turkey.